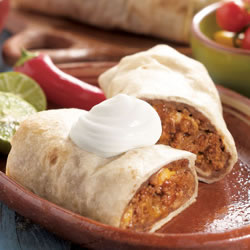 Photo from AllRecipes
I had a pound of ground beef the other night and a bunch of left over taco ingredients but not all of them so burritos were the answer. I found a recipe on
allrecipes
and it was a huge hit. So here we go...
Ingredients:
1 lb ground beef
1 cup chopped onion (I sprinkled a decent amount of minced onion)
2 large garlic cloves (I sprinkled garlic powder)
2 tsp chili powder
1 tsp ground cumin
1/2 cup taco sauce (I ran out just shy of the amount)
**edit: found a recipe to make my own, you can find it
here
**
1 can refried beans (I didn't use a whole can)
6 tortilla shells, 10" (give or take a couple depending on how big you make them)
3/4 cup sour cream (I think I used more)
1.5 cups shredded cheddar (probably used more of this too)
Directions:
Brown the ground beef, drain.
Add onion, garlic, chili powder, cumin and taco sauce.
Stir together and cook for 5 minutes. Or until heated thoroughly. If you used real veggies, cook until they are tender.
-- The following directions are how I did it, not necessarily what the original recipe said --
Warm tortillas if they are brittle.
Scoop approximately 1/3 cup refried beans onto the middle of the tortilla shell
Scoop approximately 1/3 cup ground beef mixture onto the middle of the tortilla
Dallop the sour cream over the top
Put handful of cheese on top of that
Folding the Burrito: Fold in 1/2, fold in the sides, roll. If that is as clear as mud, this is the website I used to show me how :) http://www.chefbenwa.com/2008/08/how-to-roll-a-burrito/
-- Back to Original Directions --
Heat oven to 375
Spray all sides of burrito with cooking spray (I omitted this step, seems unnecessary)
Place burritos on a baking sheet, seemed side down
Bake for 12-14 minutes, until thoroughly heated and starting to brown, flipping them once.
I don't think mine were browning nor did I flip them. I tend to like a slightly softer burrito.
Summary:
Overall we loved these. Definitely a 5 out of 5 from both Andrew and I. Austin also loved them, though we had to feed it to him to prevent a catastrophic mess! Andrew dipped his in some salsa we had as well. These came out soft enough for me but still crunchy enough for Andrew. We will absolutely be making this again and I'm sure it will probably be within a months time frame. Maybe I'll even attempt to make them a wet burrito. :)